Haad Thong Lang 1 ~ 40M Baht
For Sale ~ Haad Thong Lang ~ Beachfront ~ Swimming Pool ~ Air conditioning ~ Internet Access ~ Cable / Satellite TV ~ Jacuzzi ~ Private Garden ~ Terrace ~ Sala ~ Development Project ~ Electricity Supply ~ Water Supply ~ Chanote land title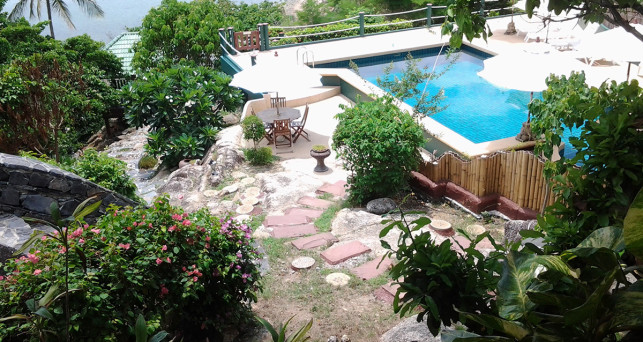 DeeDee Villa Retreat is located at the private and secluded beach of Haad Thong Lang in the north-west of Koh Phangan. The villas are situated on sixteen hundred square meters ( 1 rai or 1/3 acre ) of private beach front land facing Koh Ma and Koh Tao. The 10m by 5m family friendly swimming pool is positioned on the middle tier.
The villas can be arranged as either a principle four bedroom, four bathroom villa or as two separate two bedroom, two bathroom villas. Both villas have fully furnished living rooms and kitchens. The villas are within ten minutes drive of Chaloklum fishing village and Mae Haad beach.
Facilities
Fully equipped kitchens complete with two-burner gas hobs, rice steamers, microwaves, kettles, electric grills, fridge freezers and all the kitchenware required
Large indoor and outdoor dining areas, a poolside dining area with dimmer lights and power sockets
Private gardens with two footpaths leading to the Hammock Sala with dimmer lights and power sockets situated ten metres above the beach
Secure childrens flat surface play area (16m by 8m)
Gated car parking at the entrance. The perimeter and internal footpath lights are on a timer
10m by 5m swimming pool and jacuzzi
Outside shower, sun loungers and two metre wide parasoles
Plasma TVs, DVD libraries and sound systems
Air conditioning in all bedrooms, plus ceiling fans throughout
Hairdryers, irons and ironing boards
House safes in both villas
Sun / stargazing terrace situated above Villa Two with Saan Phra Phum (Spirit House). Ideal for star gazing, sunbathing and meditation
Sand-stone flooring throughout
Ornate four metre vaulted wooden ceilings in living areas
Car parking space for three to four cars
Gas BBQ
Free Internet access (Wifi)
Satellite TV in villa 2, DVD player and DVD library in villa 1.
Make an enquiry :