Haad Thong Lang 3
To Rent ~ Haad Thong Lang ~ Beachfront ~ Swimming Pool ~ Air conditioning ~ Internet Access ~ Cable / Satellite TV ~ Jacuzzi ~ Private Garden ~ Terrace ~ Sala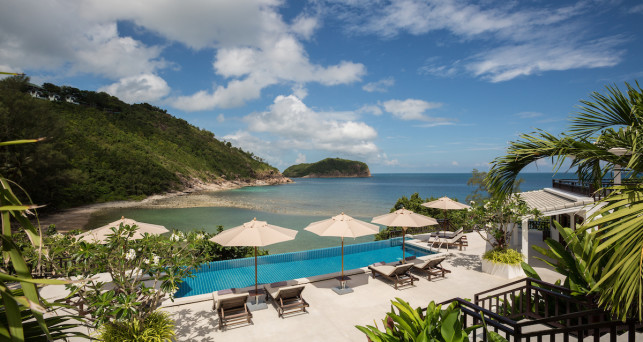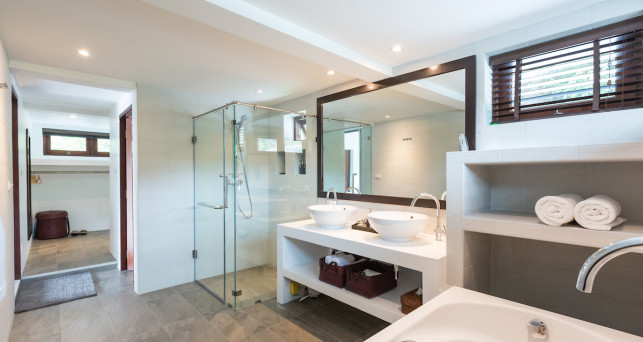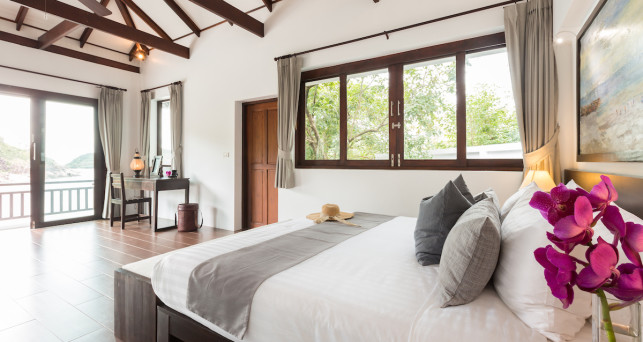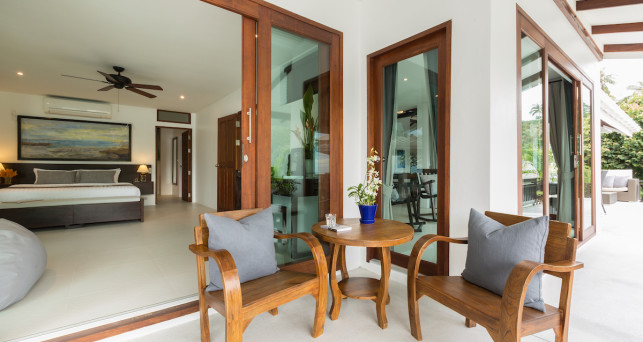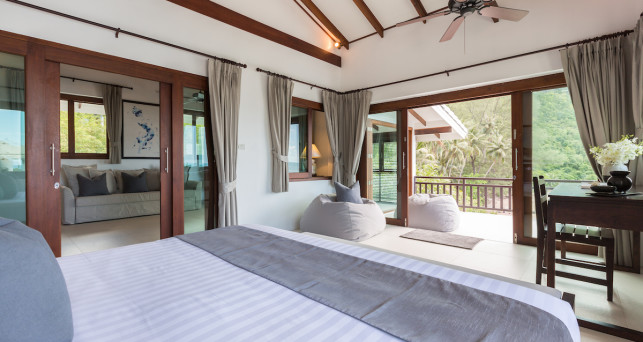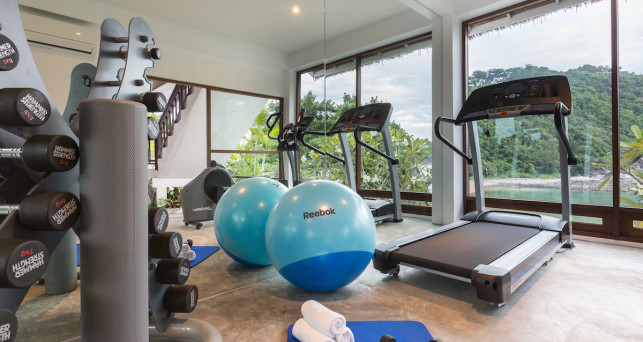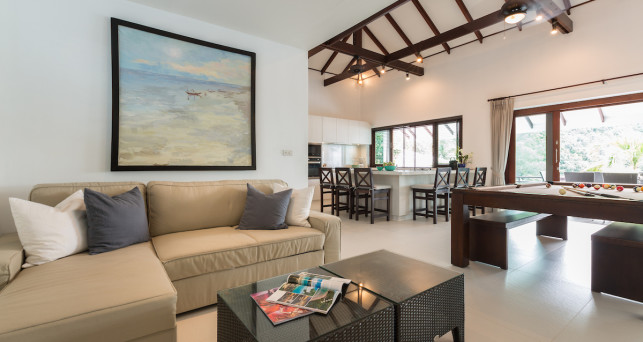 Haad Thong Lang 3 (Secret Beach Villa) overlooks the secluded and pristine Haad Thong Lang Beach. This rare location offers abundant sweeping tropical views over the beach, bay, and neighboring Ko Ma island.
Max 8 adults +4 kids. Luxury 6 bedroom villa including 2 Kid's rooms.
As the villa is separated over a few levels, ample unobstructed light streams through the large windows, of which there are many. The interiors are clean and modern, including traditional Thai elements and wood to soften the overall look. The main living and dining space has white walls and white vaulted ceilings, set against beautiful wooden trusses the result is a seamless blend of class and character.
Open-air massage sala and relaxation zone overlooking the sea. Here you can have a spa treatment, manicure, pedicure, or do some yoga.
You can keep fit in the gym, which is located on the lower floor. If you're after more of an adventure, head out to the beach via the private entrance where you'll find the villas private kayaks.
Details
Resident Villa Staff – Fully serviced villa with experienced Villa Manager and live-in couple
Breakfast – Daily Complimentary Continental/Chinese breakfast
Private Airport Transfer – One round-trip from/to the airport offered complimentary
Shopping Service – Prior to your arrival we will send you a food and wine shopping list allowing us to stock the villa with your favourites foods and beverages (on guest's account).
Linen Service – Bed linen is changed every third day, while pool towels are changed as necessary.
Principal Villa – Master Suite (Upper Floor)
King size bed
Panoramic ocean view
En-suite bathroom
Double sinks
bath tub and separate shower
Hair dryer and amenities
TV with DVD and satellite link up
Ceiling fan
Safety box
Air conditioned
Family Suite (Ground Floor)
Connecting bedrooms
King size bed with 2 sofa beds
Shared en-suite bathroom
Hair dryer and amenities
Ceiling fan
Safety box
Air conditioned
Honeymoon Villa
Sauna Room
Jacuzzi bath
Separate Kitchenette (Refrigerator, Gas stove)
Direct access to the pool
King size bed
Panoramic ocean view
En-suite bathroom
Ceiling fan
Safety box
Air conditioned
TV
Beach Villa
Outdoor terrace with 4 seater dining table
Dressing Room
Separate Living Room (can be transformed into a second bedroom for kids)
Separate Kitchenette (Refrigerator, Microwave, Gas Stove)
En-suite bathroom
Bath tub
King size bed
En-suite bathroom
Ceiling fan
Safety box
Air conditioned
TV
Rates
Prices per night (Thai Baht)
High
Easter 2017
CNY 2018
Peak
New year
15th May to 30th Jun 2017
1st Sept to 17th Dec 2017
1st Jul to 31st Aug 2017
11th Jan to 24th Jan 2018
6th Feb to 8th Apr 2018
9th Apr to 23rd Apr 2017
10th Feb to 25th Feb 2018
18th Dec to 10th Jan 2017
6 BR
sleeps 8+4
$1,000.00
$1,100.00
$1,200.00
$1,300.00
$1,800.00
5 BR
sleeps 6+4
$850.00
$950.00
$1,100.00
$1,300.00
$1,800.00
All rates in US dollars. Excludes 10% service tax , excludes 7.0 % government tax
Make an enquiry :